Regular price
$325.00 USD
Regular price
$325.00 USD
Sale price
$325.00 USD
Unit price
per
Sale
Sold out
Need legal docs in your website footer for your e-commerce, online course, coaching, freelancer, blog, or podcast site, but aren't sure what you ACTUALLY need to protect yourself with a privacy policy, website terms, or legal disclosures?
This best-selling Website Legal Bundle includes an attorney-drafted privacy policy, website terms, and a disclaimer/disclosure swipe file for your modern website that will keep up with state and federal privacy regulations AND make sure you are square with third-party terms (did you know a privacy policy is required if you're running Facebook ads?!)
This all-in-one legal website bundle comes with color-coded highlighted fields so that you can customize it to YOUR business rather than someone else's site, content, and offers (think paint-by-number from your middle school glory craft days, but more helpful!) The website legal template will make sure your visitors have a clear and transparent experience on your site, regardless of the website platform it's built on. It includes all of the legalese to make your digital home base legit.
Some people are handling their website compliance by...
trying to remain in blissful ignorance

crossing fingers

living on a prayer

relying on the policy that "fell off a truck" somewhere on the internet (including free generators that are not drafted, reviewed, or updated by any lawyers)

clinging to bad advice they got in a FB Group, a shady business guru, or from google law school...
The bottom line = you are a business owner and the buck stops with you!
Don't rely on your hosting platform or web developer to CYA legally where your business baby is concerned. This is YOUR business and your website -- make sure it is protected as it should be.
Within 20 minutes of downloading, you will be ready to get your entire website legally legit! 
This template is perfect for:
content creators or influencers

photographers

eCommerce sites

coaches, authors, and digital product owners 

teacher influencers who sell from their own site

makers who sell from their own site

online course instructors

graphic designers

other creative service-based businesses

wedding and event planners and vendors

stylists 

Anyone with a website that collects ANY information (yep -- that is you -- do you run analytics? Do you have an email opt-in? You need a Privacy Policy...YESTERDAY!!
This template covers:
Data collection from children/minors

What data you collect

What you do with it

Who else has access to the data you collect

Outlines GDPR rights for EU visitors

Outlines CPPA/CPRA rights for CA visitors

DMCA compliance and disclosures

Policy towards data/content that is uploaded/shared through site through community features like enabled comments, forums, or reviews

How privacy is handled in the sale of your business 

What are cookies and how do you use them

SMS texting

PLUS all the legal hocus-pocus to make it legit! 
....AND there's more!!



Rules for anyone visiting your site

Guidelines about posting violent/offensive content

Guidelines about posting content that infringes on your copyright

Minors/children use policy

Linking/attribution policy

User account policy (need to include if visitors can create user accounts upon checkout)

Affiliate/ad policy and disclosure

Refund/exchange policy

Dispute resolution policy

Professional advice disclaimer

Earnings disclaimer

Medical/legal/financial advice disclaimer

Testimonial disclaimer
PLUS all the legalese to make it legit!
Best Practice: combine the privacy policy in this bundle WITH a cookie banner or cookie "pop-up" on your site that will allow users to accept (or not consent to) cookies or customize their cookie experience, especially if you are frequently adding new cookies, pixels, beacons or other third-party tracking as part of your online marketing strategy. 
Compliance Note: This template may not be a good fit (it's a good start, but you may need more privacy support)  if you are a larger eCommerce site or ad-ops business and: 
You are subject to the CPRA (California Privacy Rights Act)  as of January 1, 2023, meaning  you have a "for-profit business" that: 

1)has $25 million in annual gross revenue OR 

 2)processes data of at least 100,000 or more California consumers OR

 3) derives 50% of more annual revenue from selling/sharing personal information of data
Need help installing legal docs on your site? The template instructions that you get when your purchase the Website Bundle link to many popular website-building platforms, but here are some other tutorials that may be helpful*: 
*Some of these platforms allow for privacy policies AND term & conditions, and some are just for privacy policies (so any term pages will need to be added as a separate page or in a different part of the checkout customization process). Unfortunately, not all website SaaS companies see YOUR legal risks as a business owner as a priority and try to design and update features accordingly. You can always ask, though! The squeaky wheel gets the grease (or the web snippet/code). 🙂 We will use our best efforts to check these links and keep them updated, but if a link is dead, try searching your platform like this [ teachable: how to add a privacy policy] to hopefully pull a helpful article, video, or link.
Share
View full details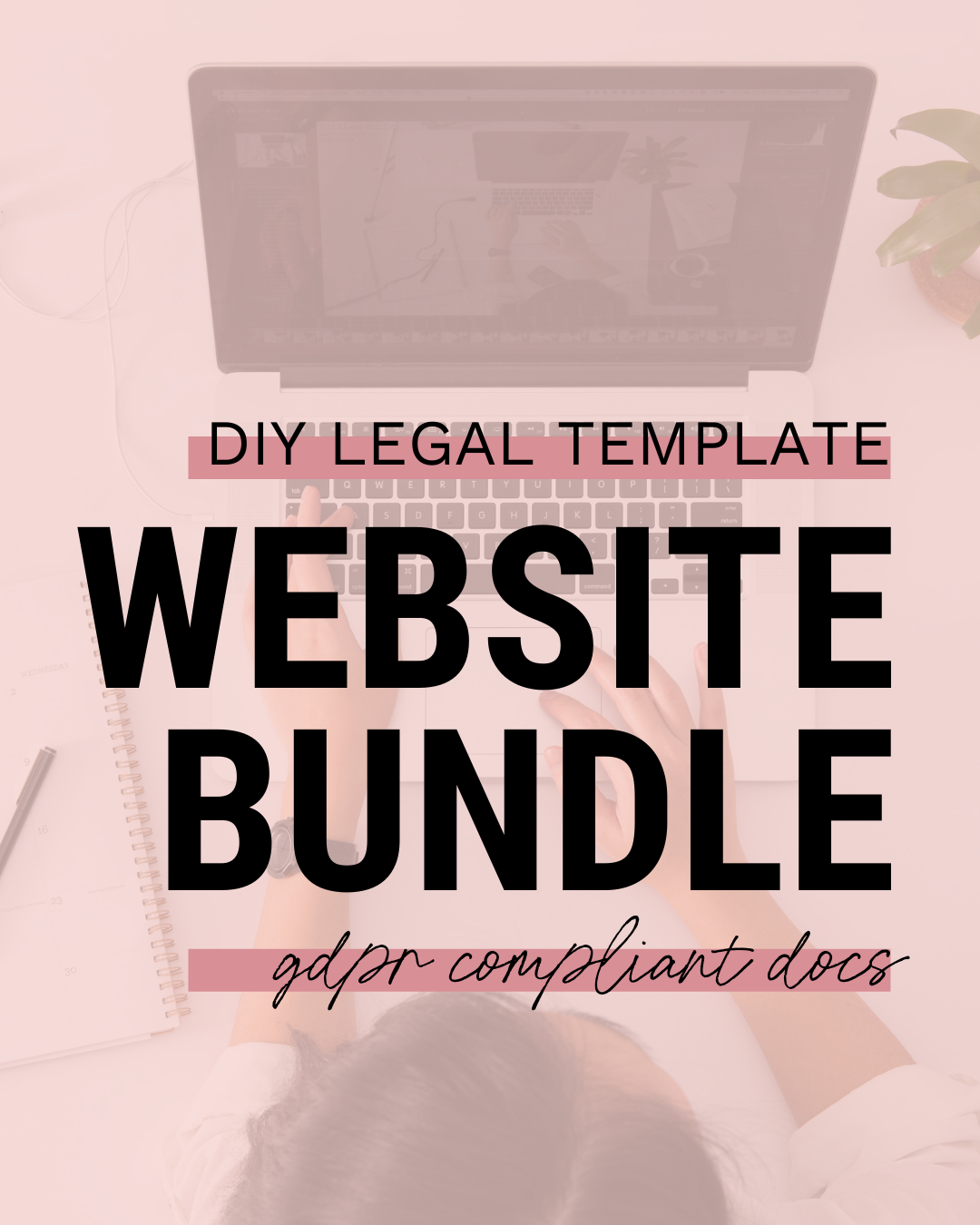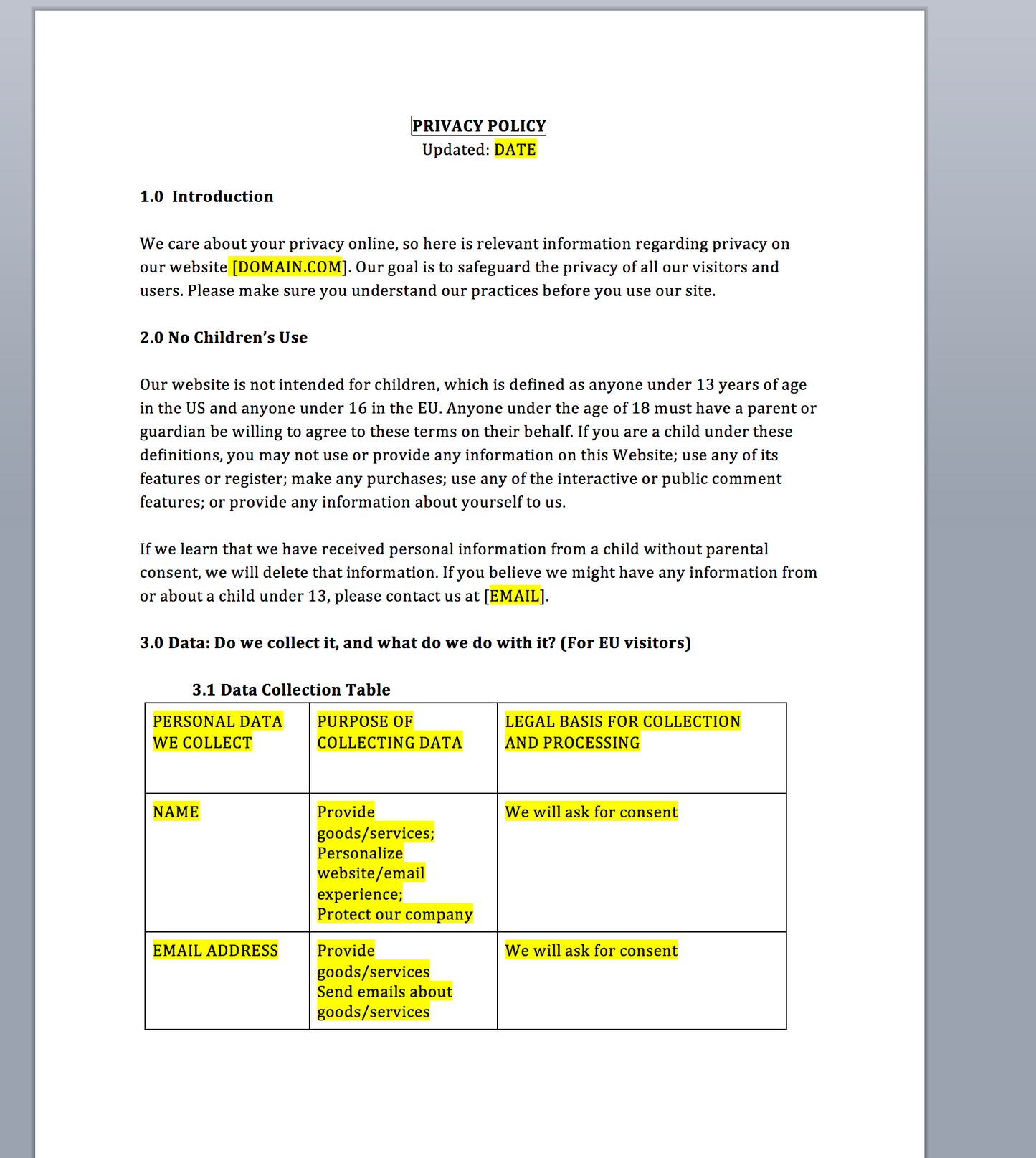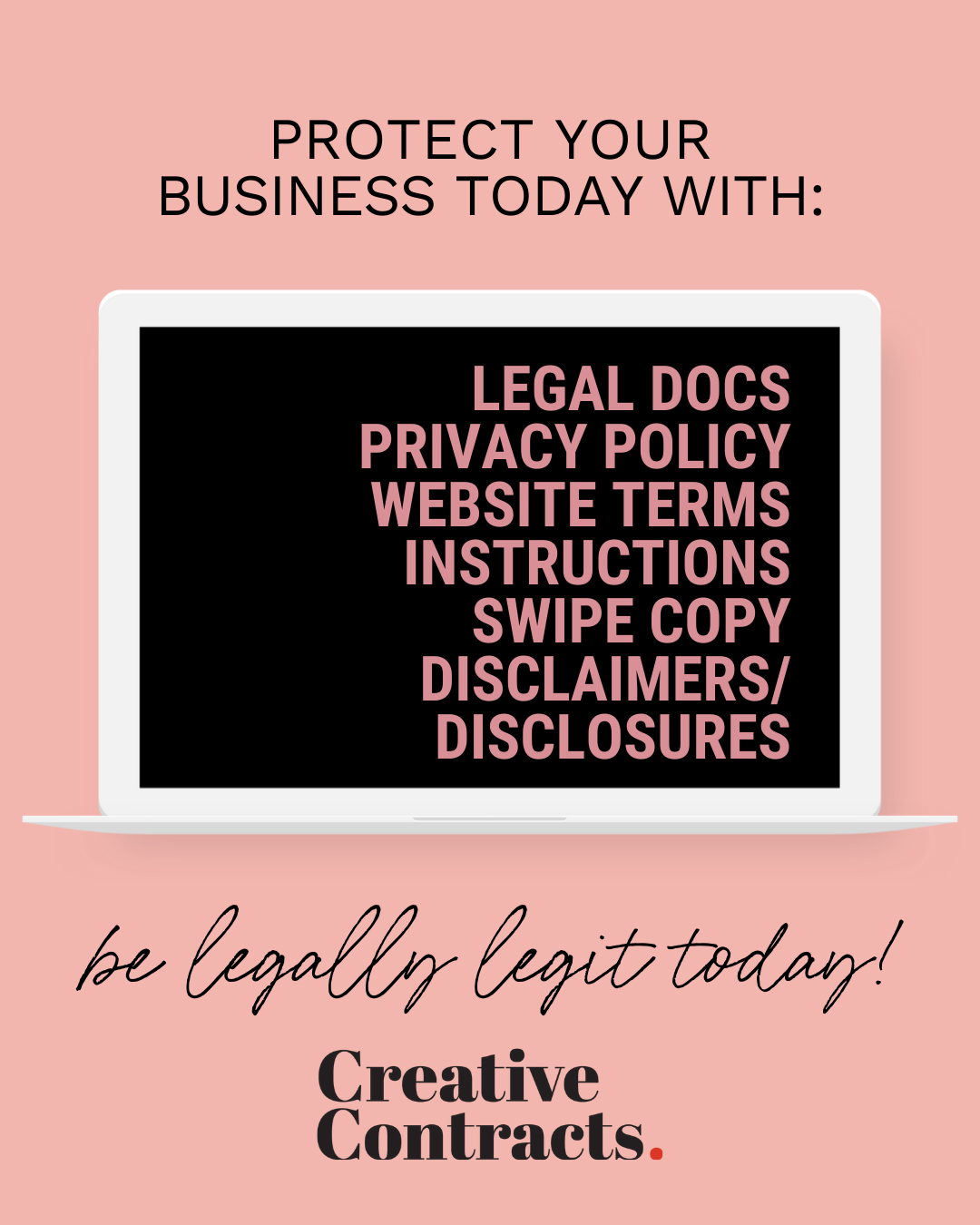 Product FAQ
What does a contract purchase include?

Contract template in an editable Word .doc format with customizable fields/options

Video screenflow of attorney Brittany Ratelle walking you through the contract template

.PDF instructions, and our favorite hacks for customizing contract templates

Single-user license to edit, use, and reuse the template for your business purposes
Where can I use this contract?

Jurisdiction: This template adheres to the U.S. principles of contract law and is designed for those doing business or governed by United States law. While similar principles may apply in your jurisdiction, please consult with a local attorney for any specific questions.
What are the term of use for this contract?

Authorized Use: This template includes a single-user license. You may reuse this form as many times as you need for your business transactions, or in multiple brands or businesses as long as it is owned and controlled by the same user/purchaser. Brittany Ratelle, LLC grants you a non-exclusive, non-transferable license to use the template in your business or personal affairs. You can send it to whoever you are doing business with for their signature (including their support staff), and you can send it to an attorney to review or edit. If you love our templates and want to share them with a friend, group, or audience, please become an affiliate and help us get others legally legit!

Prohibited Use: You may not license, sublicense, sell, resell, transfer, assign, distribute, or make this document available to a third party, other than the people listed above. You may not upload this document to a website, email it to someone, or otherwise share it publicly. Thank you for respecting creators and copyright law.
How do I get people to sign a contract?

E-signature platforms we like: HelloSign, DocuSign, Jotforms,

CRM/project management system we like: Dubsado, 17 Hats, Honeybook, and Harlow

Simply upload your polished document to a software platform and insert smart fields to make e-signature an easy-peasy process!