Regular price
$199.00 USD
Regular price
$199.00 USD
Sale price
$199.00 USD
Unit price
per
Sale
Sold out
Do you sell digital products like an e-book? Printable? Workbook? Swipe file? Templates? SVG files? If you are a teacher-author, maker, or other digital marketplace seller on TPT, Etsy, or Creative Market, make sure that you have something that ACTUALLY protects your content in that little "terms" link on checkout and get your online business legit today with attorney-drafted, industry-tested customizable terms of use for your digital product.

This Digital Product TOU/Terms of Use Template is perfect for protecting your digital product/download and for creating clear expectations with your customers. 
This template is perfect for: 
Digital downloads

Party supplies

Educational curriculum

Printables

Swipes files

Templates

Patterns

Other print-on-demand files

 And it works for literally EVERY type of business in any industry that is selling something online and is providing resources to their participants. 

PROTECTING YOUR STUFF!! And making it that much more difficult for copycats and scrapers to take your content without recourse. 
**** PRO Tip: You may also want to consider Registering the Copyright for your digital product through the Electronic Copyright Website (https://www.copyright.gov/registration/). 
The full Digital Product Terms of Use contains clauses for: 
Disclaimers against professional advice

Payment

Refund policy

Confidentiality

Indemnification

Intellectual property protection

personal license language

No transfer of copyright clause

Liquidated damages clause

Force majeure clause

Arbitration/choice of venue

Plus ALL the legal schtuff to protect YOU
The shorter one-sheet (one page) is meant to be included as a product photo with your product and/or pasted into your product description and included in your download file for your customers. To be enforceable, a customer needs to see and "agree" to them BEFORE purchasing on Etsy, TPT, or another seller marketplace. If you can't have a customer "check the box" to your own terms, this is the best protection you can get under the circumstances.
Don't let fear, overwhelm or worry that the "contract" or terms you got from a free generator, course, mastermind, coach or somewhere random on the internet really protects you. Remember you get what you pay for (and that google law school ISN'T a thing...) Snag professionally-drafted digital product terms that hundreds of other entrepreneurs have successfully used to protect their digital goods today!




Share
View full details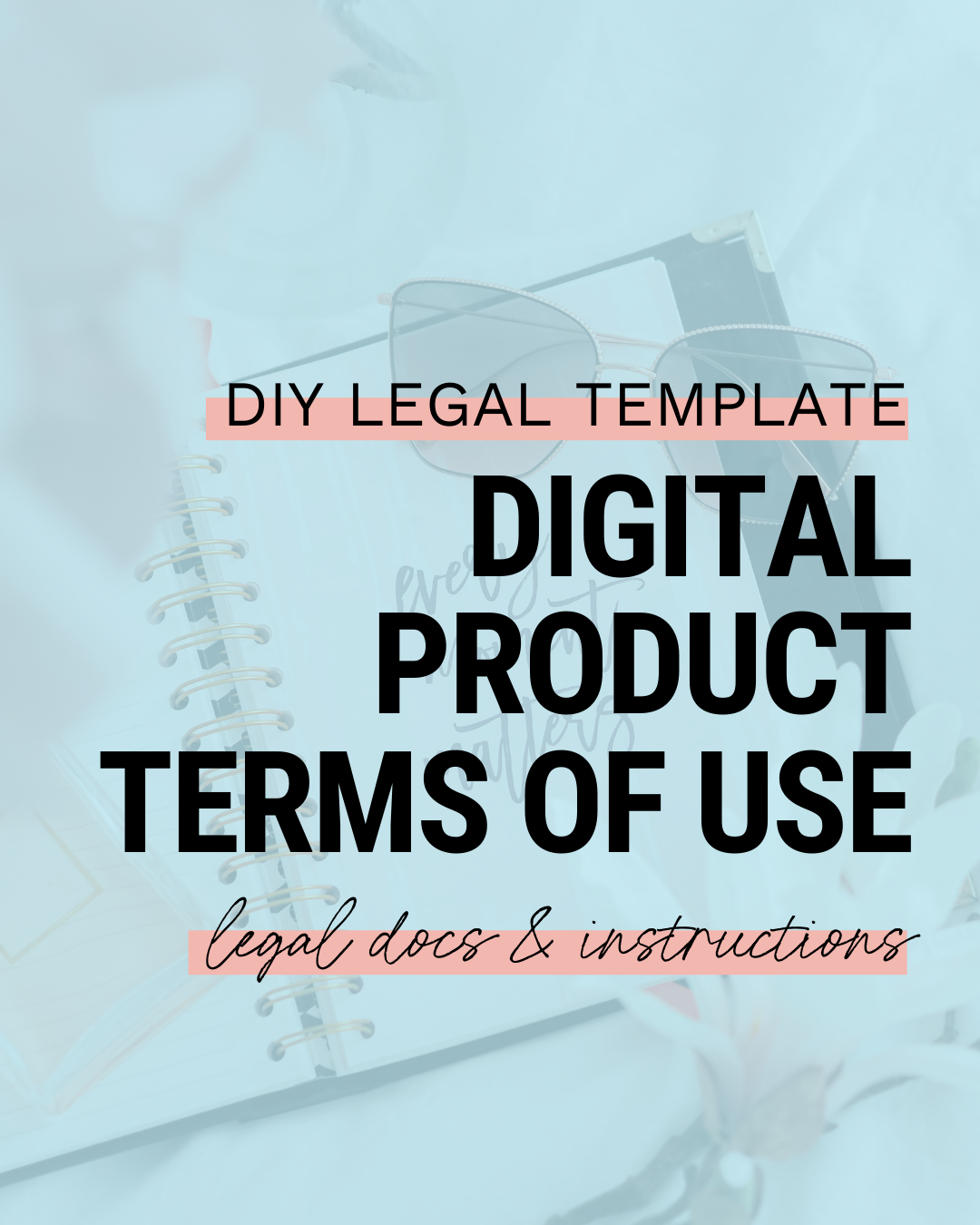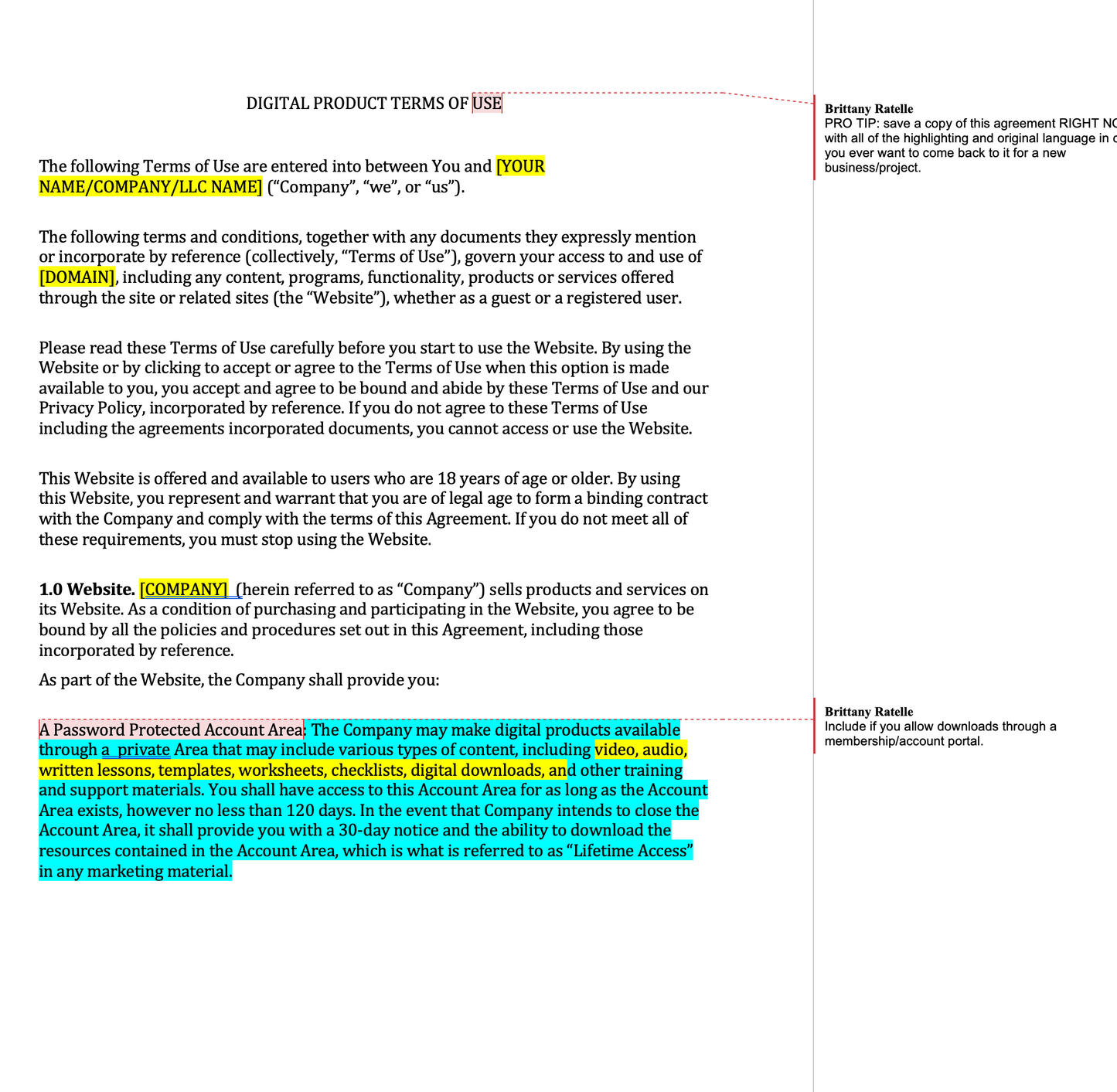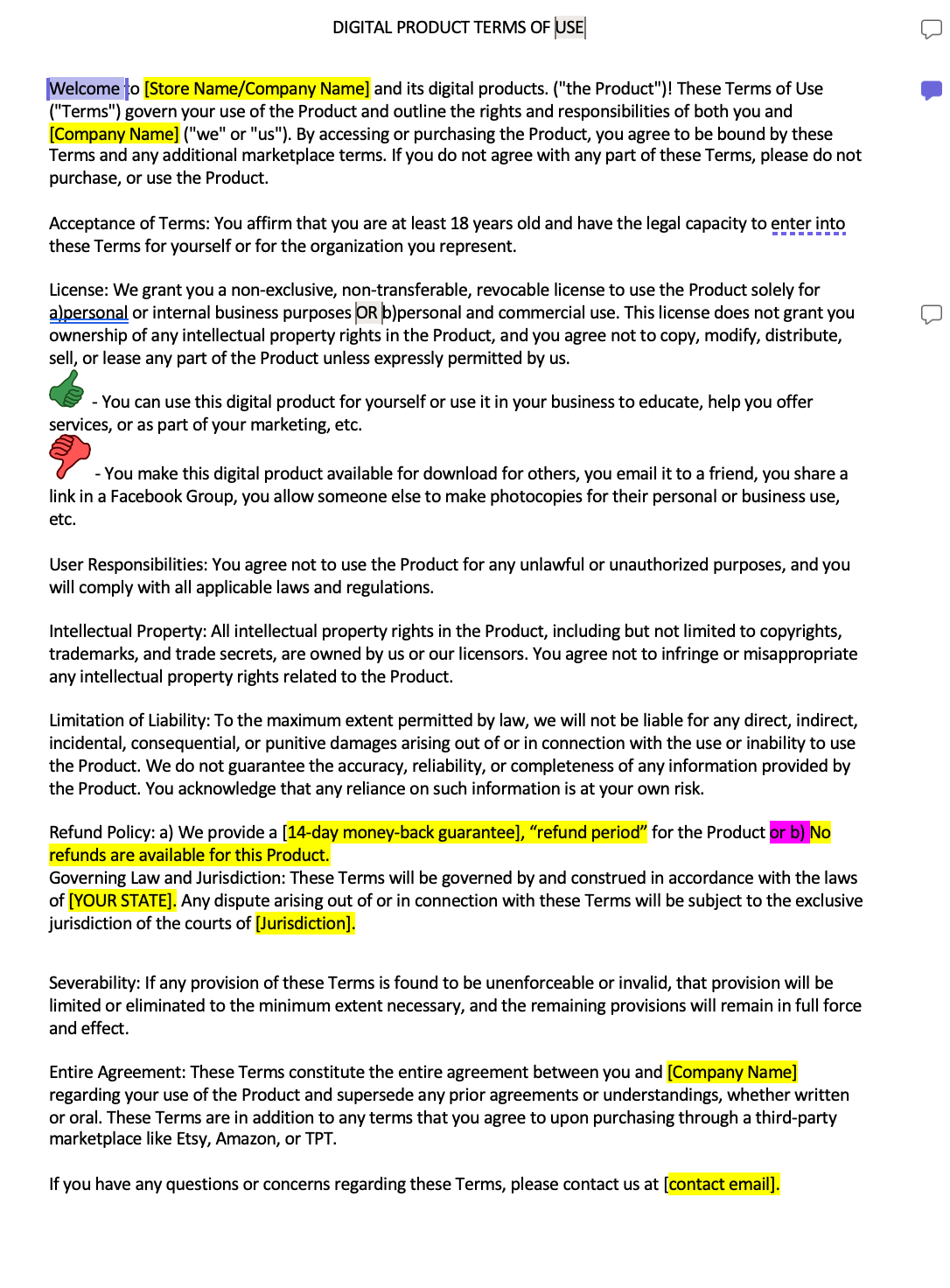 Product FAQ
What does a contract purchase include?

Contract template in an editable Word .doc format with customizable fields/options

Video screenflow of attorney Brittany Ratelle walking you through the contract template

.PDF instructions, and our favorite hacks for customizing contract templates

Single-user license to edit, use, and reuse the template for your business purposes
Where can I use this contract?

Jurisdiction: This template adheres to the U.S. principles of contract law and is designed for those doing business or governed by United States law. While similar principles may apply in your jurisdiction, please consult with a local attorney for any specific questions.
What are the term of use for this contract?

Authorized Use: This template includes a single-user license. You may reuse this form as many times as you need for your business transactions, or in multiple brands or businesses as long as it is owned and controlled by the same user/purchaser. Brittany Ratelle, LLC grants you a non-exclusive, non-transferable license to use the template in your business or personal affairs. You can send it to whoever you are doing business with for their signature (including their support staff), and you can send it to an attorney to review or edit. If you love our templates and want to share them with a friend, group, or audience, please become an affiliate and help us get others legally legit!

Prohibited Use: You may not license, sublicense, sell, resell, transfer, assign, distribute, or make this document available to a third party, other than the people listed above. You may not upload this document to a website, email it to someone, or otherwise share it publicly. Thank you for respecting creators and copyright law.
How do I get people to sign a contract?

E-signature platforms we like: HelloSign, DocuSign, Jotforms,

CRM/project management system we like: Dubsado, 17 Hats, Honeybook, and Harlow

Simply upload your polished document to a software platform and insert smart fields to make e-signature an easy-peasy process!