Regular price
$425.00 USD
Regular price
$425.00 USD
Sale price
$425.00 USD
Unit price
per
Sale
Sold out
This Operating Agreement Template is an editable, .doc format agreement that you can use to outline how you want your limited liability company (LLC) to be run. These agreements are sometimes also known as "partnership agreements" or "founder's agreements."  While they are private and not filed with any governmental authority, they are
VERY
important in outlining the roles and responsibilities of business owners and in establishing boundaries and exit planning on how a company will be run.">This template is perfect for: 
Single-member LLCs (some banks REQUIRE you to have an operating agreement, and many commercial leases do as well)

Multi-members LLCs

Family-run businesses

Married business partners

Online businesses

Podcast co-hosts

E-commerce companies

Online membership/online course co-founders

...or any type of 'Best-friend' businesses! (these agreements are REALLY IMPORTANT for business partners who have an underlying relationship that may be as or MORE important than the business venture you are starting together!)
And this attorney-drafted operating agreement works for literally EVERY type of business in any industry where the partners have 1) incorporated or registered with their state as a limited liability company or 2)plan on incorporating or registering as a limited liability company. 
Want more information on partnerships? Check out
Creative Counsel episode 45
and download the
free partnership questionnaire
to have your own "pre-marital business counseling" meeting with your business partner, and then also
episode 79 with Sara Urquhart on Starting (and fixing) your business partnerships
!

**** PRO Tip: If you are an early-stage startup that may have a longer runway where there will be time and money inputs into your company, you may want to consider a DYNAMIC EQUITY AGREEMENT, also known as a Slicing Pie Agreement where equity (or ownership) changes according to different member inputs. You can find more information about Slicing Pie here.
This agreement has clauses covering: 
Name, Address and Registered Agent of Company

Company's purpose

Limits liability for all members/owners

who can sign for the company and enter into contracts on its behalf

what the initial contributions are of founders (their "cap table"

exit planning and what will happen if a owner wants to leave the company

Non-compete language for owners

Intellectual property assignment/work for hire language so that all the cool stuff that founder are contribution to the business ACTUALLY gets put in the business pot

Social media/marketing policies around who controls online content

What to do if you can't agree on a buyout price (outside valuation)

How members can be kicked out for bad behavior
Plus ALL the legakese to protect YOU and your business from the "honeymoon" phase of your business to the "tired-but happy-married couple" phase of your business
Share
View full details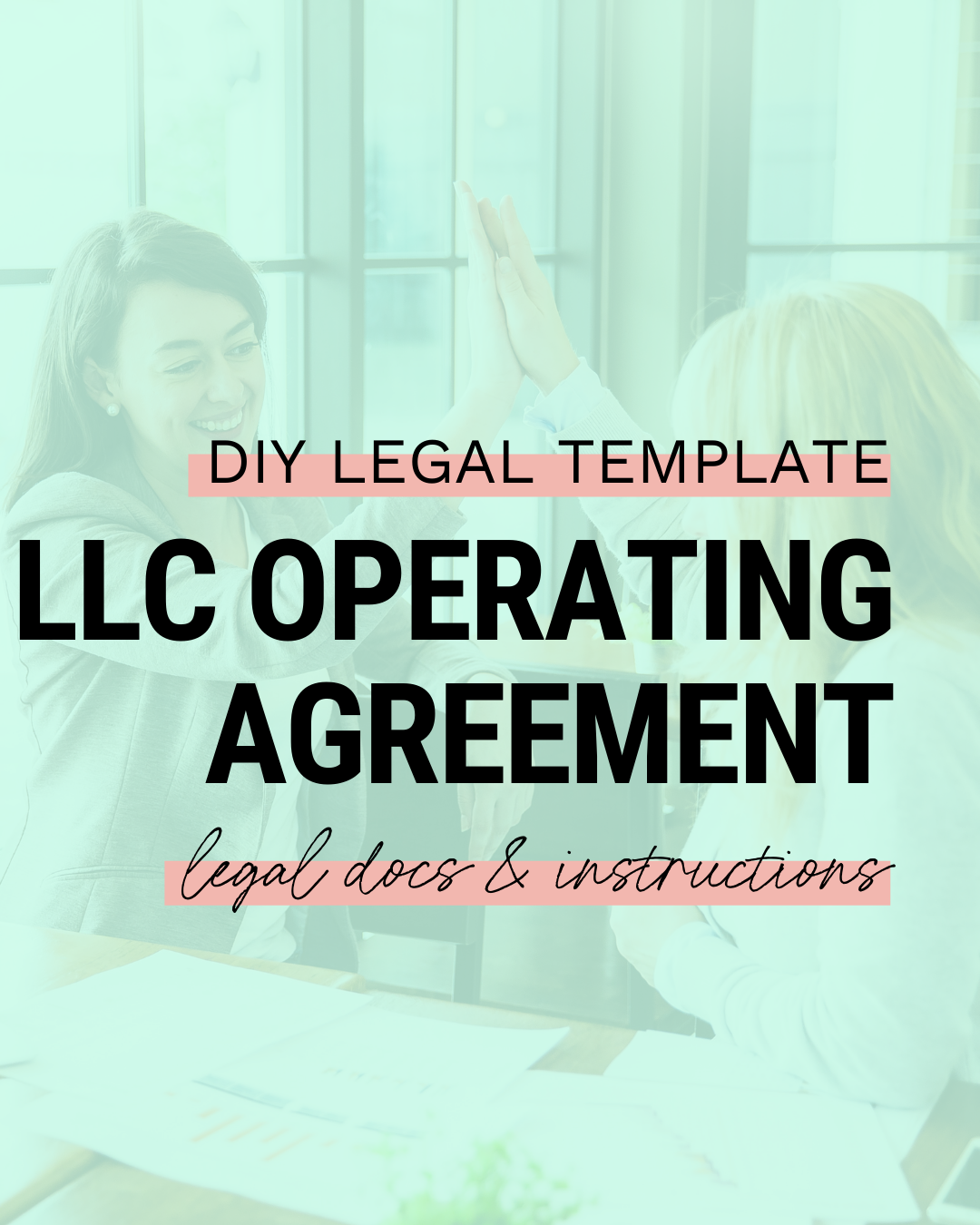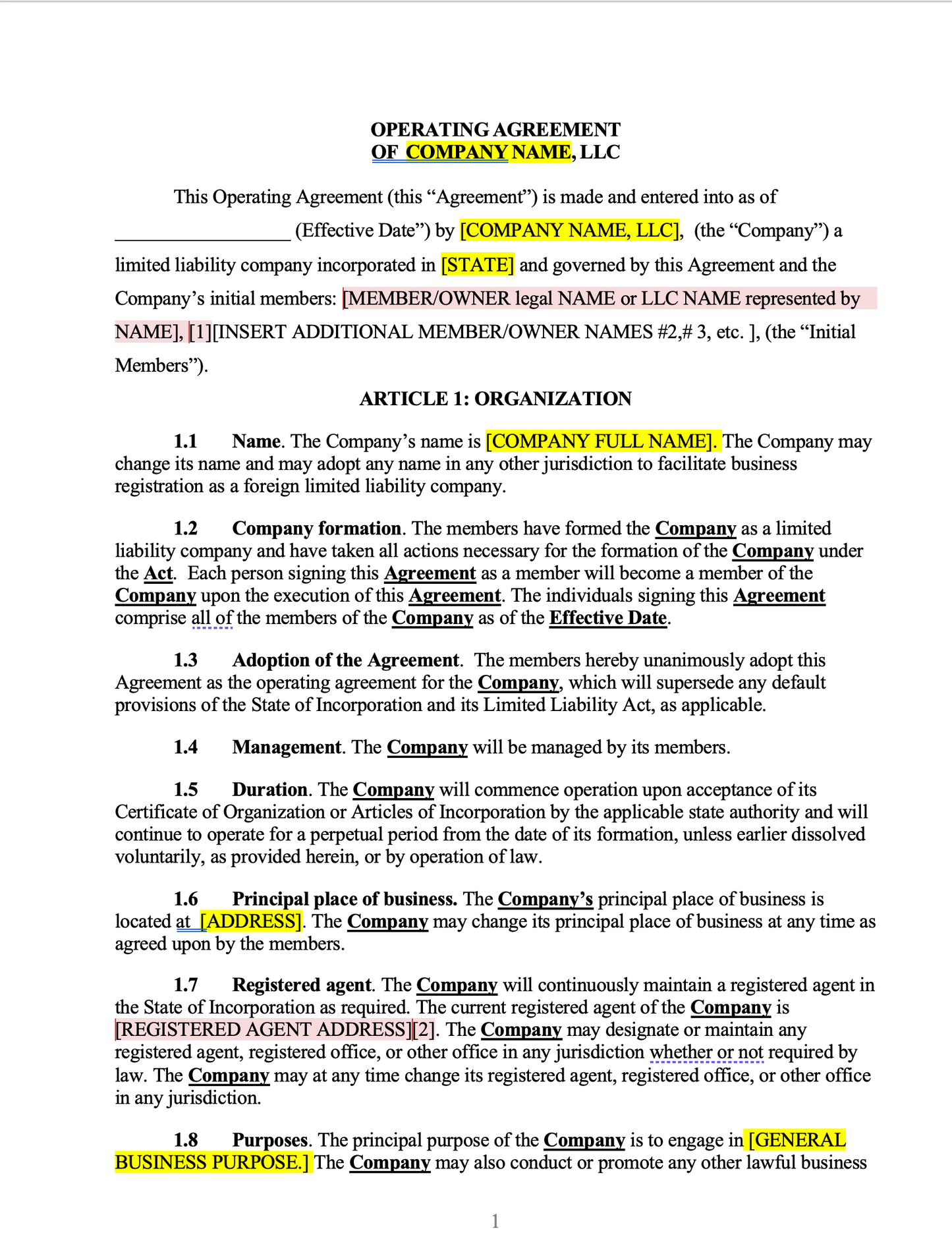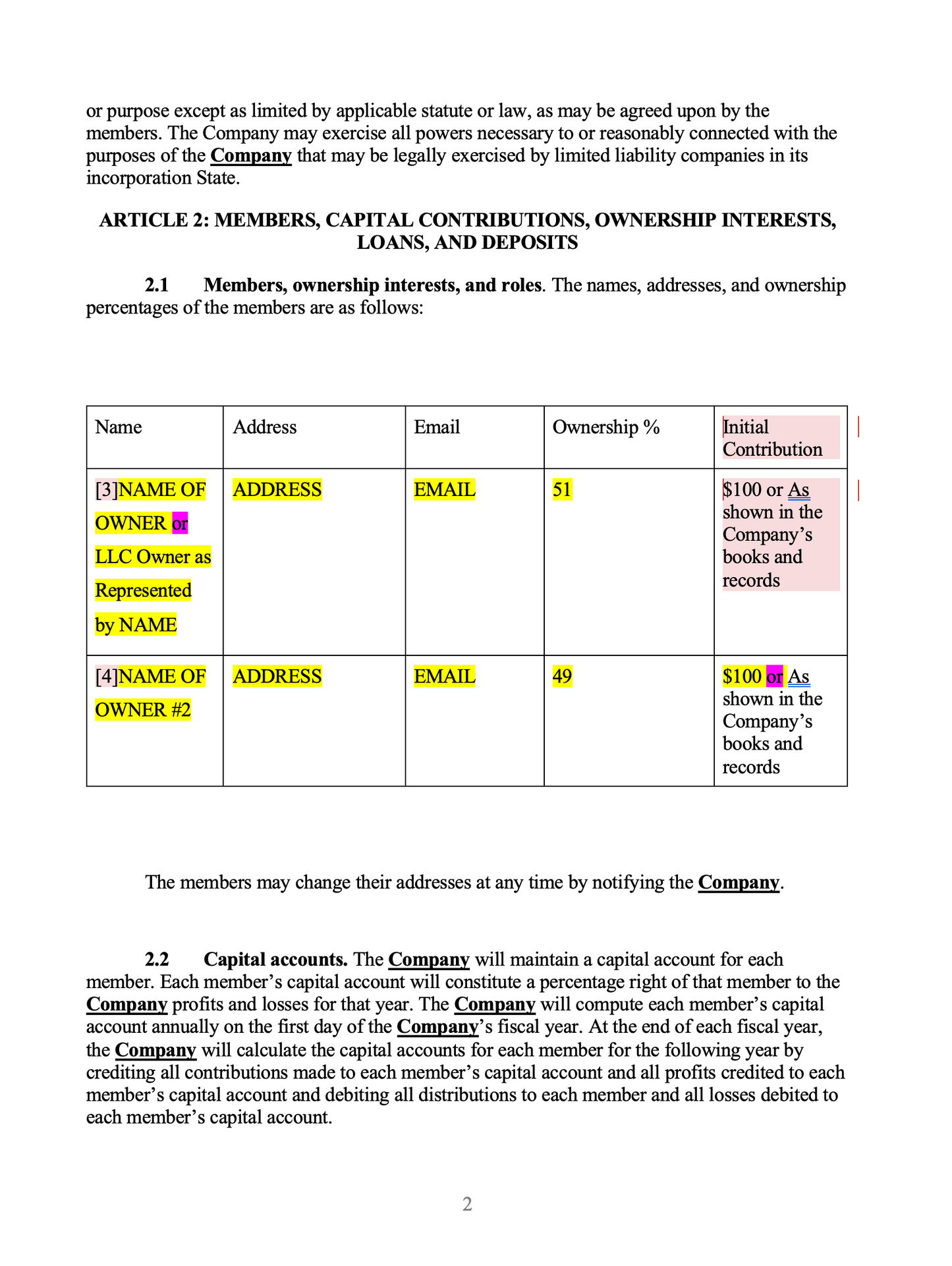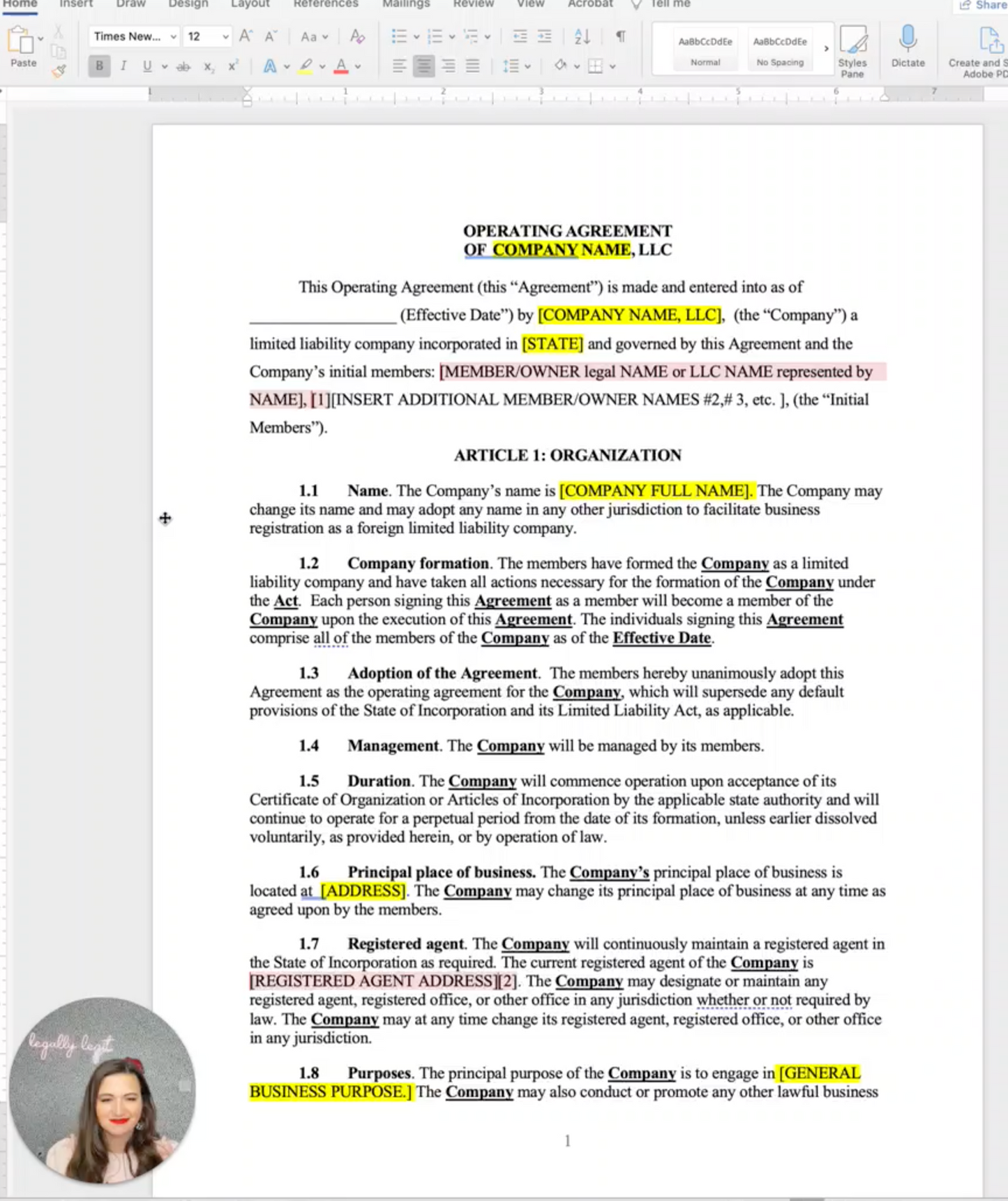 Product FAQ
What does a contract purchase include?

Contract template in an editable Word .doc format with customizable fields/options

Video screenflow of attorney Brittany Ratelle walking you through the contract template

.PDF instructions, and our favorite hacks for customizing contract templates

Single-user license to edit, use, and reuse the template for your business purposes
Where can I use this contract?

Jurisdiction: This template adheres to the U.S. principles of contract law and is designed for those doing business or governed by United States law. While similar principles may apply in your jurisdiction, please consult with a local attorney for any specific questions.
What are the term of use for this contract?

Authorized Use: This template includes a single-user license. You may reuse this form as many times as you need for your business transactions, or in multiple brands or businesses as long as it is owned and controlled by the same user/purchaser. Brittany Ratelle, LLC grants you a non-exclusive, non-transferable license to use the template in your business or personal affairs. You can send it to whoever you are doing business with for their signature (including their support staff), and you can send it to an attorney to review or edit. If you love our templates and want to share them with a friend, group, or audience, please become an affiliate and help us get others legally legit!

Prohibited Use: You may not license, sublicense, sell, resell, transfer, assign, distribute, or make this document available to a third party, other than the people listed above. You may not upload this document to a website, email it to someone, or otherwise share it publicly. Thank you for respecting creators and copyright law.
How do I get people to sign a contract?

E-signature platforms we like: HelloSign, DocuSign, Jotforms,

CRM/project management system we like: Dubsado, 17 Hats, Honeybook, and Harlow

Simply upload your polished document to a software platform and insert smart fields to make e-signature an easy-peasy process!