Regular price
$95.00 USD
Sale price
$95.00 USD
Unit price
per
Sale
Sold out
So -- sometimes things don't go as planned -- right?
This Cancellation/Rescheduling Legal Bundle will help you sort out what is going on with your old contract and get you back on the same page (literally) with your client or vendor. 
This bundle contains 3 items: 
Force Majeure Protection Clause

Client Services Cancellation Contract

Client Services Rescheduling Contract
This template is perfect for: 
Photographers/videographers

Caterers

Florists

Makeup artists

Balloon artists

Performers

Artists

Event planners

Small businesses

Event/conference/retreat hosts

And TONS of other freelancers/independent contractors who provide 1:1 services to clients and want to protect themselves when things get changed up from the original plan
**Note: You should always consult your ORIGINAL contract to see what Cancellation/Termination/Rescheduling/Refund/Exchange/Bad Weather/Force Majeure/Act of God language explicitly says and follow the directions of your contract. However, also keep in mind that life happens to ALL of us and that as a business owner, you have the opportunity to look at the letter of the law, and to consider what makes sense for your business in terms of PR/business goodwill/long-term relationships and word of mouth. 
Remember that some industries and niches can be a small world and that trying to be a reasonable, decent human and navigate changed circumstances WHILE holding appropriate business boundaries can be the best course. Please consult with a licensed attorney in your LOCAL jurisdiction as many of the laws around force majeure and "impossibility" of performing a contract can be state-specific. 
Suggested Plan: 
Add the Force Majeure Protection Clause to all NEW contracts going forward (you will probably not be able to get anyone to agree to amending and adding it once you have already signed a contract)
In the event something happens >>> Try to work out a compromise with your Client where you reschedule, find an alternate provider to cover for you, offer digital products or services instead, break down services into chunks, or ANY other creative solution first.  Use the Rescheduling Contract to change the service date and/or any other important details!
If you really can't come to any agreement with the Client about proceeding with services in any way and the client demands cancellation >>> Cancellation Contract. Use the Cancellation Contract your original contract will be officially "Terminated." Thanks Arnold...we WON'T be back. 
Share
View full details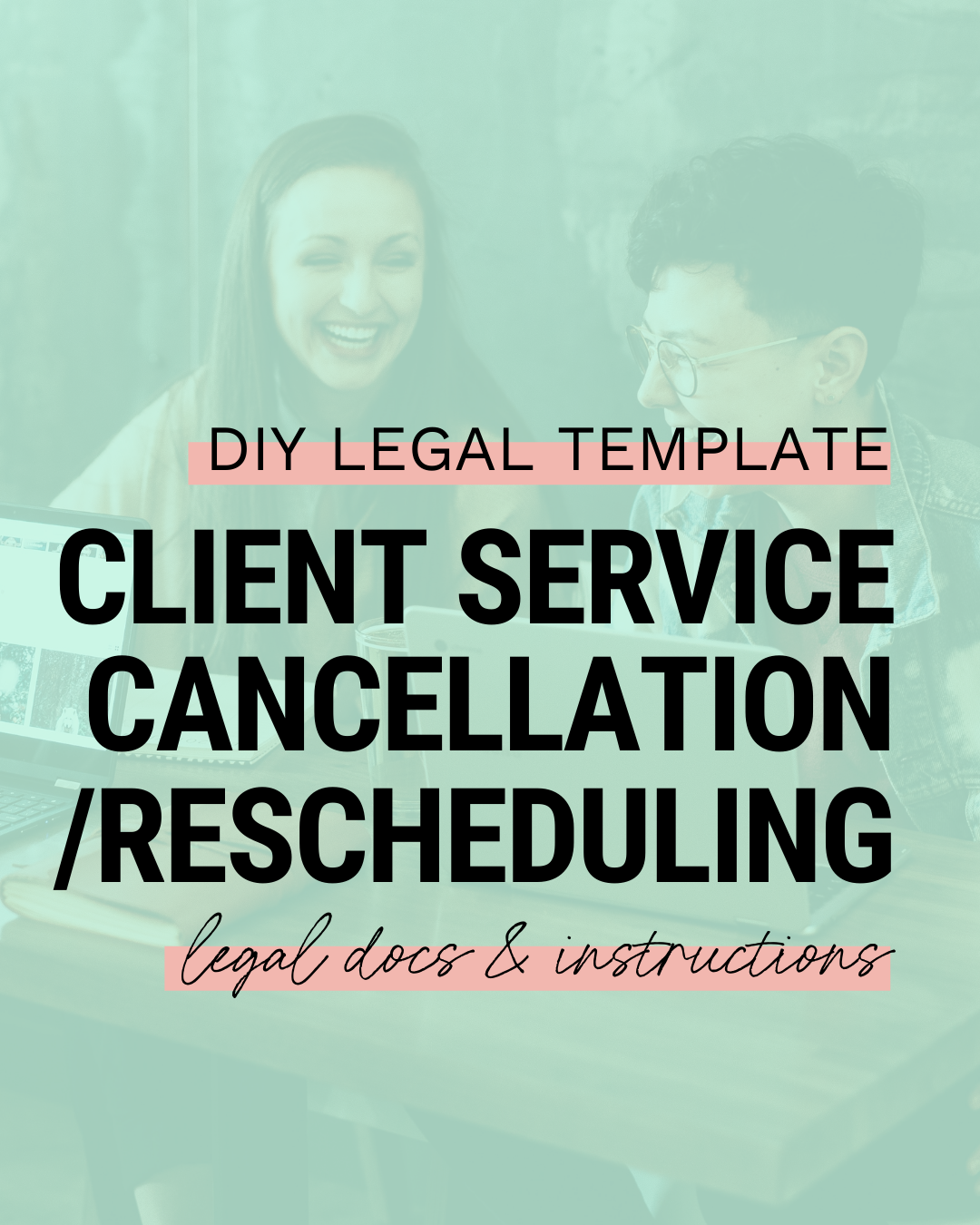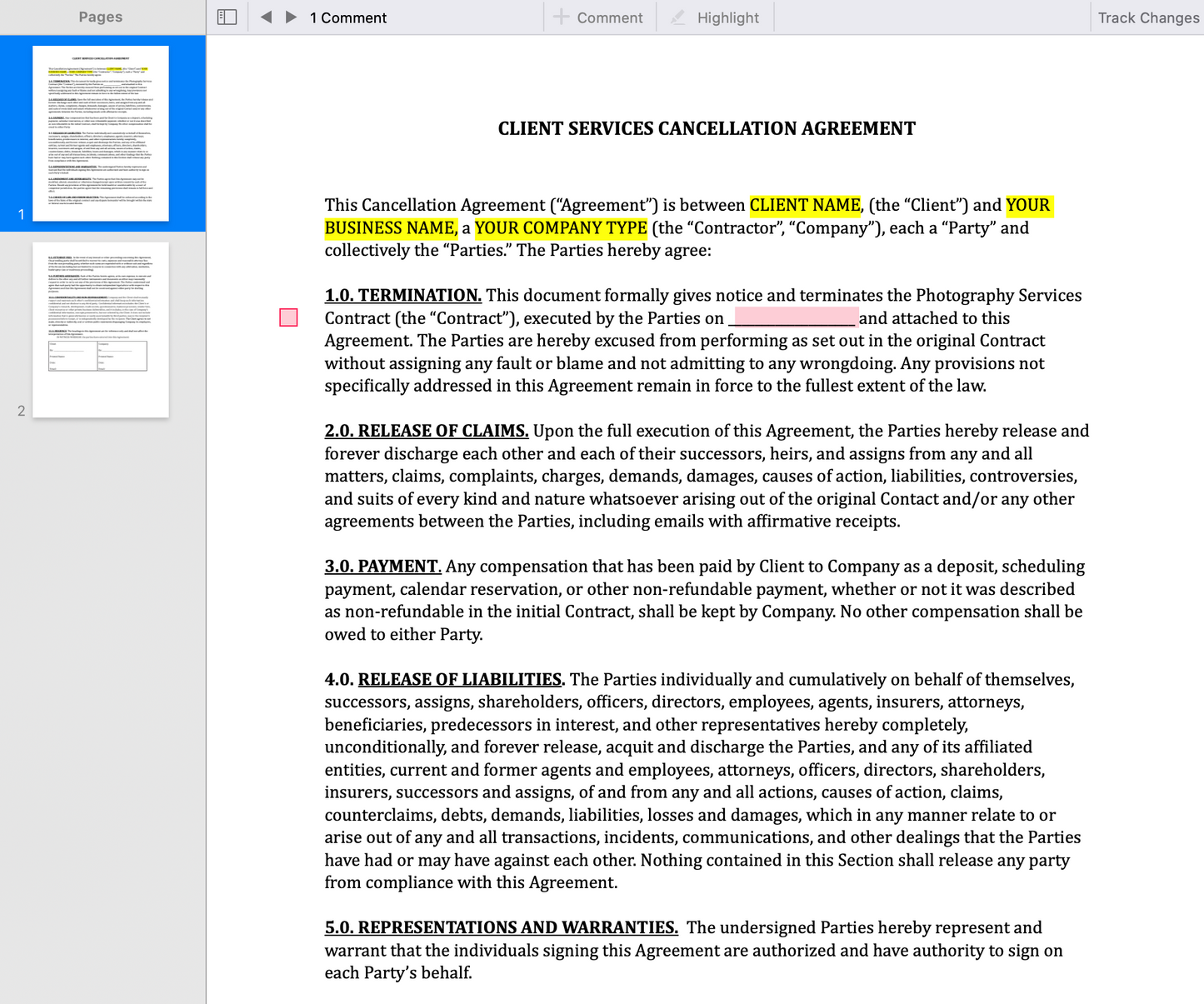 Product FAQ
What does a contract purchase include?

Contract template in an editable Word .doc format with customizable fields/options

Video screenflow of attorney Brittany Ratelle walking you through the contract template

.PDF instructions, and our favorite hacks for customizing contract templates

Single-user license to edit, use, and reuse the template for your business purposes
Where can I use this contract?

Jurisdiction: This template adheres to the U.S. principles of contract law and is designed for those doing business or governed by United States law. While similar principles may apply in your jurisdiction, please consult with a local attorney for any specific questions.
What are the term of use for this contract?

Authorized Use: This template includes a single-user license. You may reuse this form as many times as you need for your business transactions, or in multiple brands or businesses as long as it is owned and controlled by the same user/purchaser. Brittany Ratelle, LLC grants you a non-exclusive, non-transferable license to use the template in your business or personal affairs. You can send it to whoever you are doing business with for their signature (including their support staff), and you can send it to an attorney to review or edit. If you love our templates and want to share them with a friend, group, or audience, please become an affiliate and help us get others legally legit!

Prohibited Use: You may not license, sublicense, sell, resell, transfer, assign, distribute, or make this document available to a third party, other than the people listed above. You may not upload this document to a website, email it to someone, or otherwise share it publicly. Thank you for respecting creators and copyright law.
How do I get people to sign a contract?

E-signature platforms we like: HelloSign, DocuSign, Jotforms,

CRM/project management system we like: Dubsado, 17 Hats, Honeybook, and Harlow

Simply upload your polished document to a software platform and insert smart fields to make e-signature an easy-peasy process!