Regular price
$325.00 USD
Regular price
$325.00 USD
Sale price
$325.00 USD
Unit price
per
Sale
Sold out
Get a downloadable DIY legal bundle to get your direct sales business legally legit!
Are you ready to get your direct sales/network marketing/MLM/independent distributor/consultant/artist/did we include ALL of the slashies...business legit?
So you love a product -- and you love people -- and you have hit your stride selling something in a way that works for your life, skills, and setup. However -- have you been a little lost on the business side of stuff? Maybe your company has given you some great pointers about parties and booths -- but little about LLCs, bookkeeping and FTC rules? Maybe you are great with makeup tutorials -- and rusty on your liability coverage??
Does any of the following sound familiar?
What should I sell? What are the pros and cons?

Am I a "real" business owner? (spoiler alert -- you ARE if you're making $1 dollar!!) 

What business expenses can I usually deduct from my taxes?

Do I need to register my business? Which business entity is right for me? And how do I set that up?

What kind of websites or pages can I set up to promote my business?

How do I know I'm not being ripped off by the parent company?

Do I need legal statements on my website?

Where can I get them? What do they need to say?

Can I repost pictures if I tag people? 

How do I use testimonials in the right way?

What do I need to be careful about when talking about my earnings in my business to others who might join?
Bottom line -- how can I do this RIGHT? ALL OF THESE QUESTIONS are answered in this DIY Legal Bundle. 
 This attorney-drafted Legal Bundle includes 
a step-by-step beautiful checklist of what to do to get your direct sales biz legally legit

my FULL website legal bundle, which includes a GDPR-compliant privacy policy, and website terms (a $300 value on its own, and you'd pay 3x that much to hire an attorney to draft these, at a minimum!!)

swipe file disclaimers/disclosure for earnings statement, affiliate statement, health/wellness/medical advice disclaimer, and testimonial disclaimer (with explanations of which you need on your website and WHY)

++ a pre-signup checklist for anyone who is thinking about getting started in direct sales -- what questions should you be asking?? What research should you do? What are the red flags that you need to be aware of since you are acting as an independent contractor with your OWN liability/reputation/time/money at stake? 

license to use this legal bundle for any of your individual businesses (by all means - rinse and repeat!!). You can't share with a friend or a FB group -- but if you love it and REALLY want to help others #getlegitwithbritt too -- you can check out our affiliate opportunities! 
So what are you waiting for? I'm sure you love your product. I bet you're a great people person -- but you need to look out for YOU. The buck always stops with you -- even if you are selling someone else's product, so you need to make sure that you have your ducks in a row.  
Share
View full details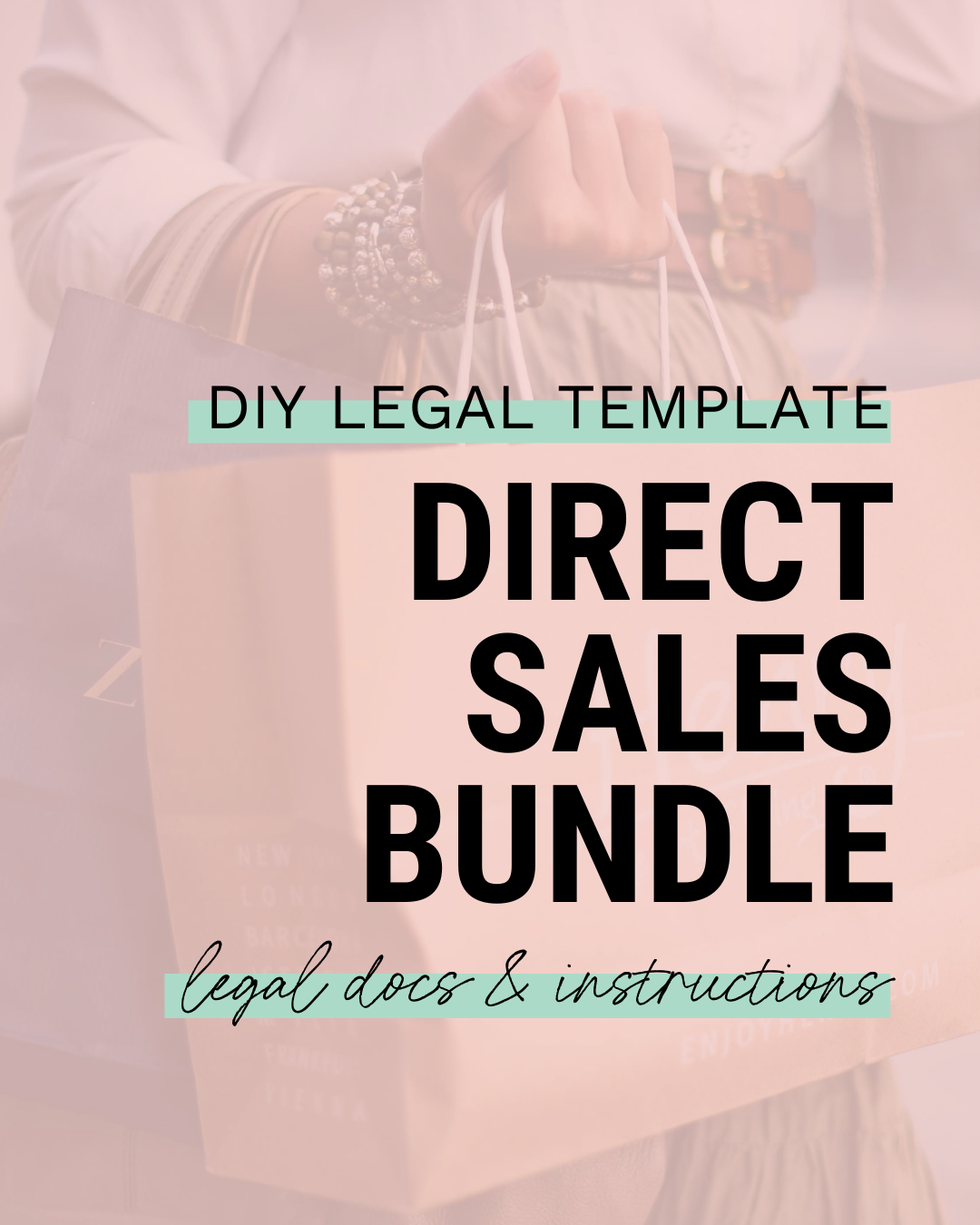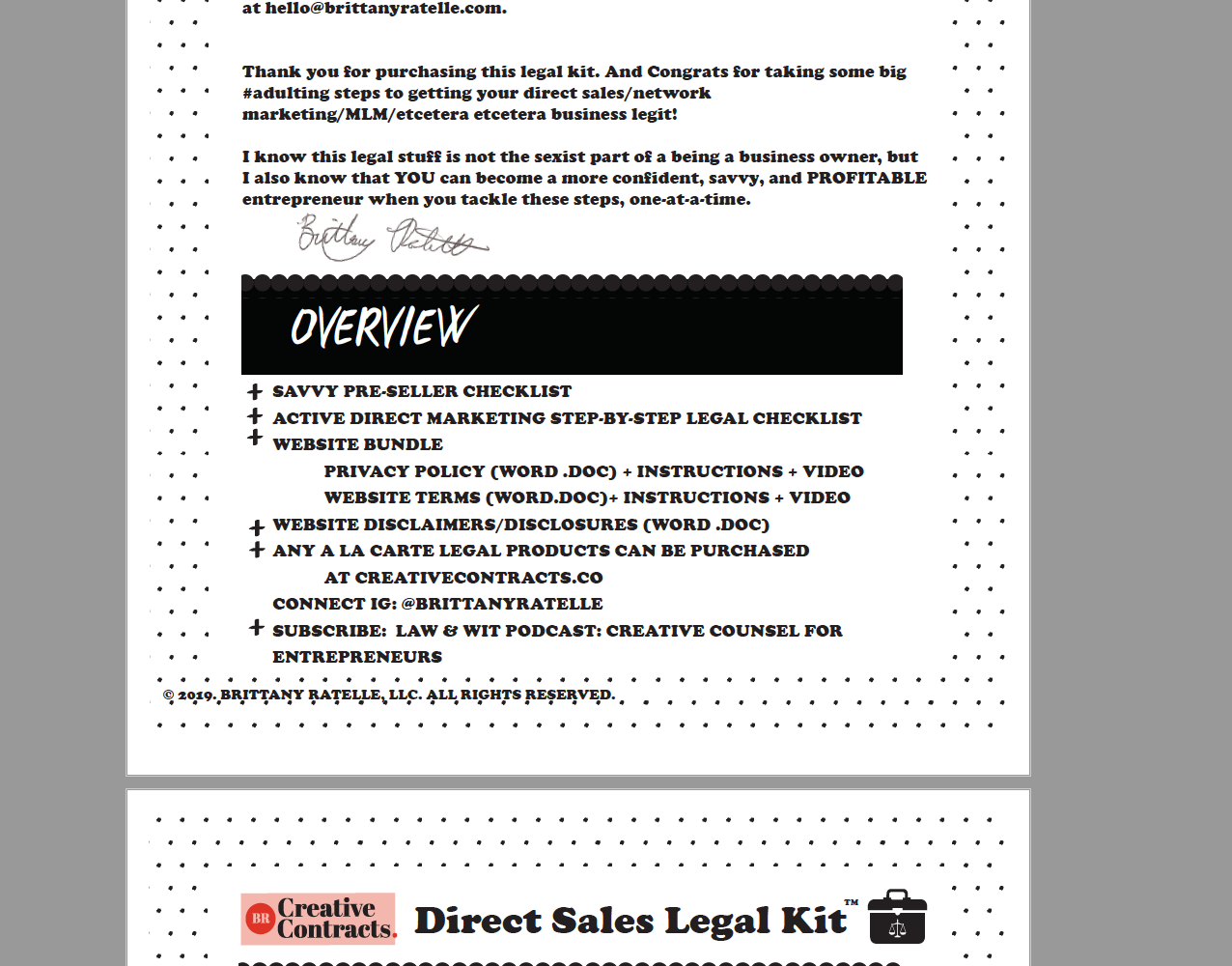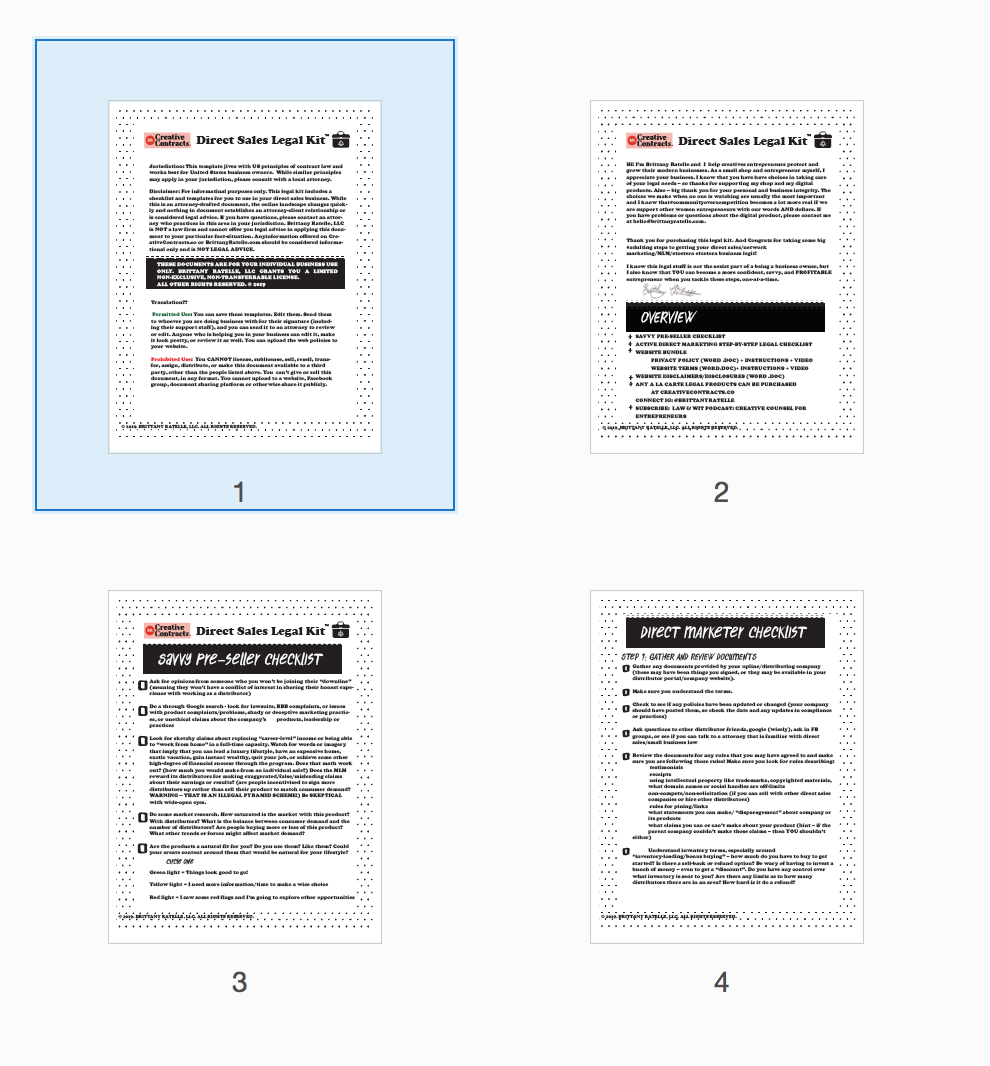 Product FAQ
What does a contract purchase include?

Contract template in an editable Word .doc format with customizable fields/options

Video screenflow of attorney Brittany Ratelle walking you through the contract template

.PDF instructions, and our favorite hacks for customizing contract templates

Single-user license to edit, use, and reuse the template for your business purposes
Where can I use this contract?

Jurisdiction: This template adheres to the U.S. principles of contract law and is designed for those doing business or governed by United States law. While similar principles may apply in your jurisdiction, please consult with a local attorney for any specific questions.
What are the term of use for this contract?

Authorized Use: This template includes a single-user license. You may reuse this form as many times as you need for your business transactions, or in multiple brands or businesses as long as it is owned and controlled by the same user/purchaser. Brittany Ratelle, LLC grants you a non-exclusive, non-transferable license to use the template in your business or personal affairs. You can send it to whoever you are doing business with for their signature (including their support staff), and you can send it to an attorney to review or edit. If you love our templates and want to share them with a friend, group, or audience, please become an affiliate and help us get others legally legit!

Prohibited Use: You may not license, sublicense, sell, resell, transfer, assign, distribute, or make this document available to a third party, other than the people listed above. You may not upload this document to a website, email it to someone, or otherwise share it publicly. Thank you for respecting creators and copyright law.
How do I get people to sign a contract?

E-signature platforms we like: HelloSign, DocuSign, Jotforms,

CRM/project management system we like: Dubsado, 17 Hats, Honeybook, and Harlow

Simply upload your polished document to a software platform and insert smart fields to make e-signature an easy-peasy process!